Welcome
This little house is tucked onto five acres of hillside sloping down to the shores of Woods Pond. Here we hope you will find what we have found -- a chance to unwind, to explore, to relax, and to journey deep. It is a place much loved without losing the beauty of being new and fresh.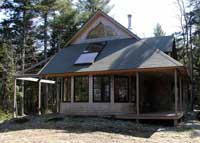 We invite you to come, slip your canoe or kayak into the pond, pick up a book or just listen. You can swim in the pond and it's shallow enough to actually warm up as the season warms. Or, in winter, you can snowshoe right on top of the ice itself. (See the photos.)
We finished building the house in 2002 and we're creating this website so that you can learn more about the house and what's possible here, and setting out from here. For more information, please contact me, Vicki Pollard. That's the easiest way to understand whether this tranquil retreat is right for you this season.
Please browse this site or check the information at VRBO which lists amenities concisely.
We recommend reserving your canoe or kayaks in advance with The Activity Shop here in Blue Hill. They deliver and pick up from the house, making for ease and increased fun.