Reviews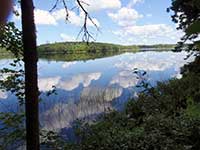 People from all over the world have enjoyed time here in the quiet by the pond. We are proud that we have attracted such excellent people to rent the Retreat on Woods Pond. We would like to share a few of the things they had to say.
We've picked the best, of course, and the ones we think exemplify the variety of responses. And you can go to VRBO and look at the reviews there. So far they are all 5-star except one poor soul who punched a hole in a wall and wrote a good review of the house and a bad review of us. Go figure.
---
For Example:
February 2021: Serenity This is a really beautiful and cozy spot. The large windows and skylight were spectacular for watching the snow fall and the heated floors were appreciated by us and our pup :) Love the minimalist decor too which helps ease the stress out of your mind. Thanks for a wonderful stay Vicki!
September 2020: Wonderful Maine Getaway
We had an absolutely lovely time at Vicki's place! She and her husband came to greet us and show us around the property when we arrived, and provided great tips for exploring the surrounding area. We rented a canoe from the activity to paddle around the pond (we basically had the pond to ourselves most of the stay, which is more like a small lake). The solitude and peacefulness of Vicki's home made our stay extremely relaxing and we enjoyed all of the gorgeous views from the porch and screened in gazebo. We would absolutely visit again!
August 2020: Out of the Singing Hearts of a Thousand Mountains, The Sun Rises As you know this year has been a year of good-byes for us. We came to Woods Pond heavy with sorrow and fatigue. She welcomed us and held us closely, my sorrow found ground and underlying love. Thank you for welcoming us to your Woods Pond family. Endless gratitude....
September 2018: This was our 9th summer at the Retreat.
The most peaceful, beautiful, relaxing, engaging and enriching experience. For two weeks we took hikes every day around Blue Hill and Acadia, swam and kayaked in the pond. In the evening we sat in the screened in gazebo down by the lake and watched the sunset.
March 2017: This place was great and Vicki & Howard fantastic hosts. The location is private (no neighbors to be seen) yet only a few minutes from the grocery store, gas station and a Dunkin Donuts. Vicki & Howard were easy to get in touch with and very helpful.
September 2016: The home could not have been anymore perfect for the quiet getaway my husband and I were looking for. The house was spotless, uniquely designed and provided everything we needed. The location was set back secluded in the woods so you felt you were truly immersed in nature but then it was only a 5 minute drive to get to the heart of the town for anything we needed; great restaurants, supermarket, pharmacy, gas station and shopping.
Each day, we took the kayak we rented for the week from the local Activity Shop to the private lake that was just steps from the house and my husband was very pleased to find that it was stocked with small and large-mouthed bass. We were almost always the only people on the water and enjoyed watching beautiful sunsets from the boat each night. Vicki and her husband were incredibly friendly and even stopped by to introduce themselves and make sure our stay was going well. We loved our trip to Blue Hill, and this house, so much we hope to make it a new annual tradition.
July 2016: My wife and I could not have picked a better place for our vacation in Blue Hill. Vicki and Howard made us feel most welcome on our arrival. Their cottage is nestled among the trees, but offers an open design with great natural light and a tranquil view of the pond. We enjoyed many hours at the cottage and on the pond -- a porch for reading and daydreaming, abundant bird life (including loons), comfortable swimming, pleasant paddling.
The cottage is just minutes from the markets, restaurants and shops of Blue Hill as well as the fabulous chamber music performances at Kneisel Hall. Short drives took us to other beautiful ocean side towns, farmers' markets and the nearby parks including Holbrook Sanctuary.
August 2015: This is truly a "tranquil retreat" in a beautiful setting. The house is comfortable and thoughtfully constructed. The high ceilings and the curved bank of windows facing the pond allows for a beautiful view and a feeling of being a part of the quiet pine forest. The carved spiral staircase to the second floor is gorgeous and the attention to detail in the house is in sharp contrast to what is seen in most rental properties. I'm sure this is because the owner's built the house without ever intending to rent it. I hope they continue to do so as we loved our stay and hope to return next year. We would recommend it without hesitation.
August 2014: The two weeks we spent at your property were the most joyful ones we have ever had. It was peace in its best description. We used the lake to its fullest and the gazebo too. Veronique [the dog] was in heaven!
Pierre wanted you to know we saw two loon chicks this week.The parents were teaching them how to dive and fish. Claire and Pierre
July 2013: Thank you both for sharing your special place with us. This truly was a relaxing, peaceful week, just what we were hoping for.
Your home is lovely and we enjoyed our time here. Thank you too for letting us bring Jackson along. He especially liked the side porch where he could enjoy nature and his morning brushing.
We will miss the quiet — not easy to find these days. Warm regards, Dave and Kathryn
June 2011: Thank you for sharing your beautiful retreat with us. We admired all the thought and artistry that obviously went into it. We especially admired the spiral staircase, and all the skylights and windows, and the way they framed the view. It really is a perfect house.
We enjoyed a wonderful, relaxing week, and I hope we will be able to return again soon and that you will continue to rent it! Sincerely, Liz
July 2011: Well, we awoke this morning and heard a plane flying overhead .... and knew we were no longer in the idyllic Woods Pond cottage. Sigh. Next, we realized that SOMEONE ELSE was probably waking up where we'd been waking up for the past couple of weeks - another disturbing thought!! However disquieting, we are forced to acknowledge that our little vacation has ended.
But we wanted to communicate to you folks, more fully than our scrawled napkin-note of yesterday's departure, our vast satisfaction with Blue Hill in general and your cottage in particular. It was truly all as advertised, and we couldn't have been happier. We did get a canoe from the Activity Shop, which knew your place and delivered, and had five splendid paddles over the last ten days or so of our stay.
We ate in, but also ate out a lot and were actually HIGHLY impressed with how many very good eating experiences we had over our two weeks - the worst places we went were OK, the best ambrosial. We recommend Cleonice highly, and also had great breakfast & sandwich type stuff at C.Shell's coffee spot in the brick building downtown in B.H. Arborvine was good, rather than great, but we'd probably go back there. The Lookout over in Brooklin, though underpopulated when we were there to dine (four tables on their porch the only eaters), still gave us excellent food. The Brooklin Inn had amazingly good Mussels Dijon, but the dinner fell off after that starting success.
We Kneiselled two Fridays - it really doesn't get any better musically .... but that of course you know as you shared both the music and the mosquitos with us two nights ago.
The drive to Acadia isn't much fun, but we got over there for hiking and biking three times - oh, and we did get over to visit our Isle au Haut pals for a night, too, hauling lobster traps with them and happily wolfing down our catch. Galleries, Khen Rinpoche talk at one of the local churches, even the Blue Hill Pops over at GSA on the 3rd w/ the flashing pans, Paul Stookey, et al...
All this, plus gazebo-sitting several evenings with a perfectly chilled fume blanc. So: it were more than swell! Thanks, and keep up the good work! All best, Tom and Christopher.
July 2010: We had a wonderful time at the Woods Pond Retreat. An already beautiful place was made even more so by the perfect weather.
We kayaked on the pond, ate blueberry pancakes, bird-watched from the porch and the screen room. Our dog happily ate blueberries, hung out on the porch and slept on her bed placed under the spiral staircase. We tromped on many of the trails within an easy 30-minute drive, ate great seafood and had a perfect Maine vacation.
We are delighted to have discovered Vicki and Howard's exquisite hideaway on Woods Pond — a very comfortable and beautiful cottage, completely private but minutes away from the village of Blue Hill. Vicki and Howard were great hosts — answering all our questions and giving us good advice on kayaks and trails.
October 2010: We loved our recent stay at this Woods Pond retreat. The owner was nice and the house was amazing in every detai — the lake view was awesome, even the view from master bed was planned to look up thru skylights at the dark starry sky!
We really enjoyed the fact that due to no light pollution the sky was amazing at night. Took a night walk w/ flashlights down to their dock on the pond with our little boy who'd never seen such an amazing scene at night. Awesome gourmet kitchen, however, we didn't get to use it much since we went to Acadia & other local sights.
I laughed when my hubby noticed no window blinds, but explained there's no one but trees to see you for hundreds of yards at least! You can't go wrong with this if looking for quiet, peaceful place to stay. We can't wait to return for a longer stay. Kim from TN[top]
September 2010: I spent a week here with my partner and our golden retriever in late September. We were seeking peace and quiet and found that and more, incredible beauty, water views, lush woods, beautiful foliage, amazing outdoor space (the gazebo, the dock and the porch), incredible hikes, great canoeing, delicious local seafood and produce, wonderful seaside architecture and incredible tranquility.
The owners were especially accommodating and welcoming of both us and our dog. I thought perhaps that the lack of a daily newspaper or a television would be an issue for me, and I can honestly say that once I arrived I was actually glad to be able to turn off that part of my regular life.
I would highly recommend this home for anyone looking for a true getaway and a chance to reconnect with their loved ones and nature. The Buddha sitting above the granite boulder sets the tone for the sense of harmony that pervades the entire property. I look forward to returning again and experiencing Wood Pond in all of its glory during the other seasons of the year as well.[top]
March 2010: We wanted a quiet, beautiful place to spend a few days for my wife's birthda — and must have looked through a hundred different cabins on VRBO. We're so glad we picked this one! We drove five hours through a rainstorm to reach it, arriving late on a Sunday night--and found a lovely, warm, spotless, utterly secluded and relaxing cabin.
It was dark when we arrived, so we didn't discover the view until morning: sunlight flooding in through huge windows, picturesque trees all around — and a stone's throw away, a pristine pond. It was just what we'd dreamed of. This is a very special place indeed.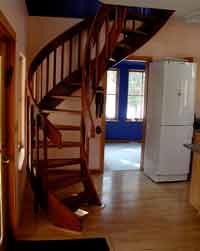 It's a one-of-a-kind cabin, built perfectly in tune with the surroundings. The open kitchen is stocked with dishes and tableware; we picked up groceries around the corner and cooked our own delicious meals. The place fills up easily with music from the owners' boom box; we used the tape adapter from our car to play Van Morrison from an iPod, but you can bring CDs or listen to the radio.
In warm weather, you can sit outside — on the porch or, close by, in the gazebo looking out at the water. One day, we hiked up Blue Hill to watch the sunset; another day, we drove an hour to Acadia National Park, climbed Cadillac, and then stopped at a soda fountain in Bar Harbor for a malted milkshake and grilled cheese.
Evenings, we played cards. When our time was up, we didn't want to leave. One's experience in a place like this is very much shaped by the character of the owners — and in this case, the owners were delightful. They've poured their hearts into this spot, and they want visitors to enjoy it as much as they enjoy it themselves. They were responsive and gave us plenty of privacy.
You'll treasure your time at Woods Pond. Please leave it in as good shape as you find it — because we hope to come back!
October 2008: Vacations are seldom absolutely perfect, but our week at your cozy and beautiful retreat was about as close as one can get. What a wonderful spot!
Your house is beautiful and comfortable, and wonderfully private and peaceful. Hopefully we left it as you would have wished. We would love to take it next year if you are still renting. Maybe we could coordinate it with the dates of the "Wine and Food Festival".
This was also a perfect spot for our dog, Zorro. His activities were very much like home. We climbed Blue Hill, hiked in Acadia, Caterpillar Hill, Holbrook Island Preserve, and along the Naskeag Peninsula at low tide with our friends who live in Brooklin. Just great!