Welcome
Woods Pond Retreat is a very special place, perfect for the couple who appreciates tranquility and beauty. Looking through the woods to a pristine pond that is home to loons and otters, one is immersed in nature.
The house is set far from neighbors and the beauty outside is reflected in the simple, stunning interior. People tell us the photos just don't do it justice. Once featured in the New York Times travel section, this place is for those who want someting unique — a nature lover's paradise and an art lover's heaven.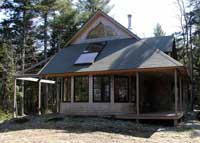 But come see for yourself. Slip your canoe or kayak into the pond, pick up a book or just listen to the quiet. You can swim in the pond from the dock, or, in winter, you can snowshoe right on top of the ice itself. (See the photos.)
For more information, please contact me, Vicki Pollard. That's the easiest way to understand whether this tranquil retreat is right for you. It's a delight winter, spring, summer or fall.
Please browse this site or check the information at VRBO or HomeAway which lists amenities concisely.
We recommend reserving your canoe or kayaks well in advance with The Activity Shop here in Blue Hill. They deliver and pick up from the house, making for ease and increased fun.