Photos Page 2
OK, let's go outside.
This is the corner of the house, closer to the pond where the round front of the house looks out. It's a great place to sit outside with a book or you can wander from here over to the screen house.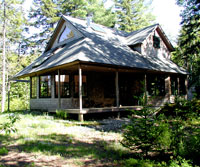 Same corner, you just stepped a few more steps down the path.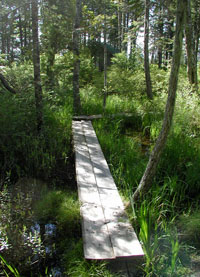 First, cross over to the screen house. This is also where you will launch your canoe or kyack from. Wear your Tevas if it has been raining.... You can see the screen house through the trees.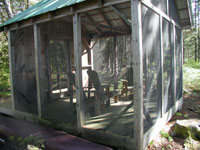 The screen house with its Adirondack chairs and not much else. Perfect for a sunset glass of wine or lemonade... Yes?




Case in point.....
OK, just so you get the idea of the beauty and the magic, this Ladies Slipper, a rare plant, was growing right beside the house in early June. Such amazing gifts....
Same day, there were three trillium in a little patch of sunshine in the woods next to the house. More nature magic.