Photos Page 4
We added a dock in 2010 and now have an aluminum swim ladder added to the front to make swimming just a tad easier.
Loons are common here on Woods Pond. Sometimes we even have young ones. Please don't come too close as they scare easily....
A blue sky day at the house.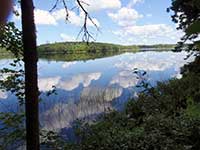 Introducing Woods Pond, also know locally as Third Pond. It's a great pond to explore by canoe or kayak -- small enough to know where you are and large enough to lend many days of adventure.
Here's one of our guests on a quiet day our for an adventure on the pond. The dock make for easy access and graceful steps into kayak or canoe.
And here's just another view down the spiral staircase....